CASE Construction Equipment, a brand of CNH Industrial, has unveiled the long-awaited Crawler Excavator CX220C to its product portfolio today at the 10th edition of the International Construction Equipment and Construction Technology Trade Fair – CII EXCON 2019. This globally renowned excavator will now be manufactured at the brand's plant in Pithampur and available in the Indian market from April 2020 onwards.
The CASE CX220C is specially designed for tough applications. The machine is equipped with a powerful and reliable FPT Industrial engine to ensure high productivity with low fuel consumption and is highly suitable for stone quarry, road works, general construction and earthwork. With the launch of this new product, the brand has become a full liner in India, further strengthening its leading position in the country's construction industry. In addition to excavators, CASE India is also displaying its complete line-up of vibratory compactors, backhoe loaders, crawler dozers, motor graders and skid steer loaders. This wide range of equipment illustrates the brand's ability to cater to activities as diverse as urban construction, road building, infrastructure, mining and agriculture.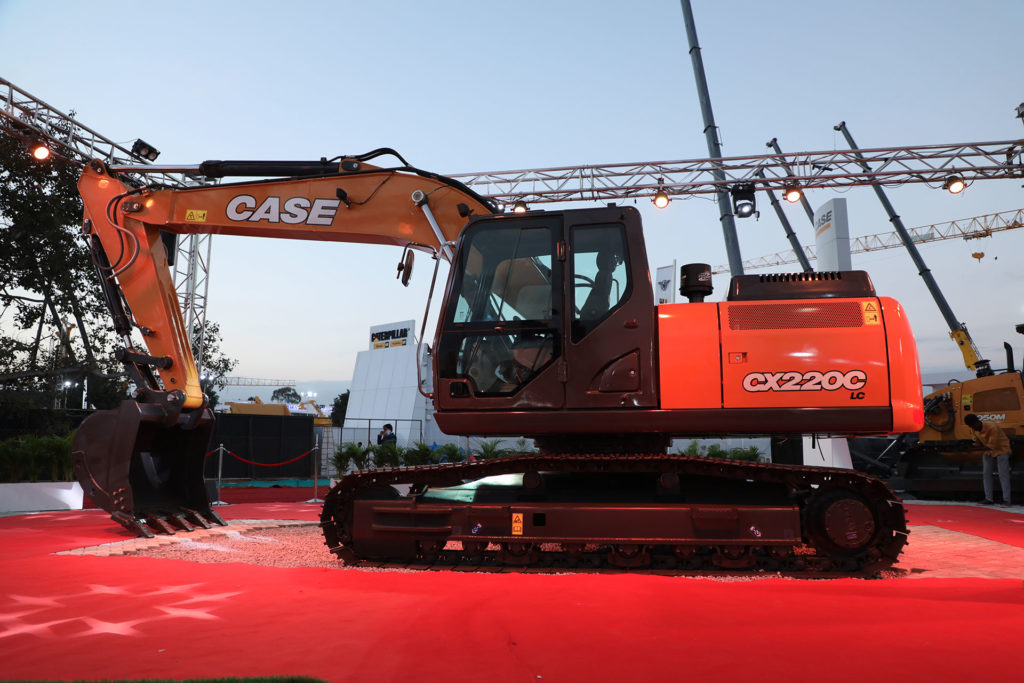 Commenting on the occasion, Mr. Raunak Varma, Country Manager, CNH Industrial India said," CASE India embarks on a new journey with the launch of a locally-manufactured excavator. India is one of the biggest construction equipment markets and one of the fastest growing economies in the world. It is a key part of our growth strategy. The Indian portfolio is now at par with our global portfolio and we are glad to extend the same global services in India. Today with the launch of our new product; we have upped the ante in our offerings to the Indian market. We are expanding every year in terms of portfolio, manufacturing capabilities and our customer touchpoints so as to keep the momentum going."
Speaking at the launch, Mr. Puneet Vidyarthi, Brand Leader, CASE India said, "At CASE India, we have always endeavored to provide innovative machines and the new CX220C Excavator is another step in this direction. With our range of compactors, graders, backhoe loaders and dozers, we already have a strong position in the construction segment and the new excavator will help in consolidating CASE India's position in the crawler excavator segment."
He further added, "Our excavator is customized to India's specific requirements and comes with CASE's promise of strong performance and efficient technology. The launch of this new product is an example of how CASE stays ahead by constantly innovating and upgrading its portfolio to meet customers' needs."
To fulfill business queries on site at EXCON, CASE's commercial, product support and its financial services business CNHi Capital will be available to demonstrate and provide information on the brand's portfolio of business solutions, financing packages, extended warranties, maintenance programme, total cost of ownership and after sales service.
PRODUCT DETAILS – CASE CX220C Excavator
The CX220C Excavator has an operating weight of 22 tons and is equipped with a FPT 6-cylinder fuel-efficient electronically controlled engine. It develops a gross power of 117 KW (157 hp) and peak torque of 622 Nm at 1800rpm. The new generation FPT engine is developed by CASE sister brand FPT Industrial. Additionally, the excavator comes with five energy saving controls & ECO.
The gauge function enables the continuous monitoring of the fuel consumption that helps save fuel cost. Robust design, Heavy duty Arm, Boom & Undercarriage structures improves durability; which also contributes to lower cost of ownership. CASE India's excavator also comes with an easy maintenance from ground level for user comfort.
The CX220C Excavator is a perfect machine for every application, it comes with three available power modes and 10 auxiliary hydraulic settings. It offers an arm length of 1.9 m, 2.4 m and 2.9 m & 5.4 m boom length to cater to customer needs. Its 152kN Bucket & 132kN arm digging force ensures higher productivity. Its 6.59 m dumping height ensures safe loading in a high body dumper. The CX220C Excavator comes with a maximum travel speed of 5.6 km/hr and a swing speed of 11.5 rpm. The range of bucket sizes available are (0.9, 1.0, 1.1 cu.m) as per material density, application and customer requirements.
The CX220C Excavator is equipped with CASE India's renowned Telematics system which provides real time updates. The spacious HVAC Cabin comes with an Auto Climate Control function feature and a radio. The cabin has an integrated 7-inch LCD Monitor for real time parameter monitoring. An on board diagnosing system is added to the machine that gives a full measure or status of the machine with notifications on issues or need for repair.