Design and estimation by Tekla Structures made sure that the stadium was completed on time despite the pandemic
Cutting-edge software from global construction technology leader Trimble (NASDAQ: TRMB) helped complete the construction of a new 500-seater Indoor Sports Stadium in Lucknow, on time, despite the ongoing pandemic. The Indoor Stadium, in the campus of the Institute of Engineering and Technology, Lucknow, will be inaugurated shortly. The stadium is designed to hold competitions for sports such as gymnastics, badminton, etc.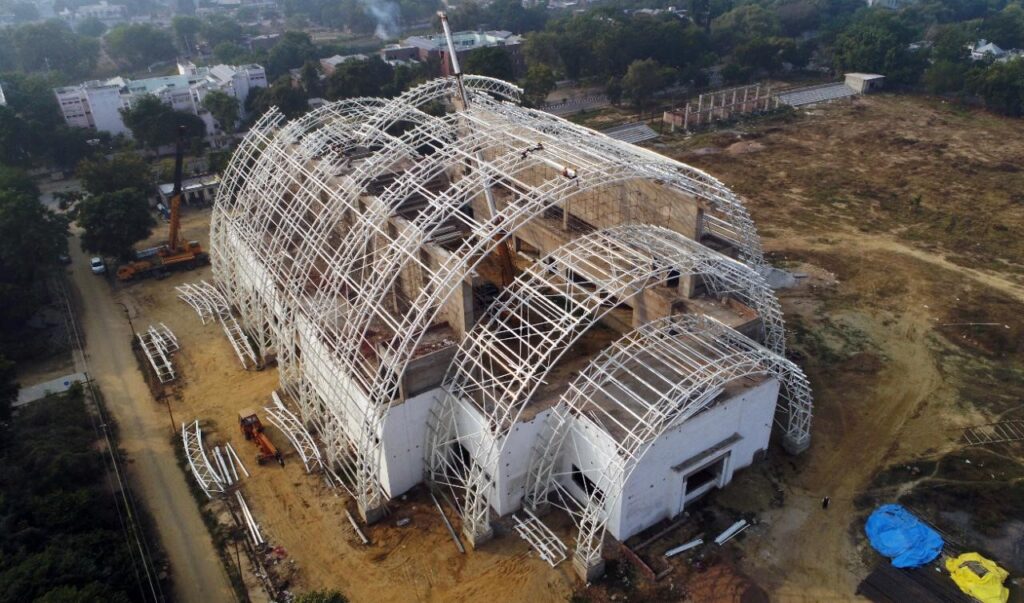 Trimble's flagship construction software, Tekla Structures was used by steel fabrication firm Zamil Steel to design and fabricate all steel structures for the stadium. Zamil Steel is a leader in pre-engineered buildings (PEBs) made of steel and was awarded the contract for design, delivery, supply and erection of the stadium's main structure.
The highly complex structure for IET Lucknow Indoor Sports Stadium is spread across 5,200 square meters. Further, the design for this structure required continuous coordination among the teams for fabrication erection and transportation during the first wave of the pandemic. Designers and fabricators also needed to collaborate closely to modify and update the structural members used in the design. Trimble's Tekla Model Sharing software was used to enable the project executing team to collaborate seamlessly, while working remotely during the pandemic-induced lockdown.
"The IET Lucknow Indoor Stadium is a tremendous accomplishment in modern civil engineering and construction. We are glad to work with Zamil Steel as their technology partner for designing, detailing and fabrication of the stadium's steel structure, which enabled them to deliver the project on time despite a raging pandemic. We believe Tekla structures to be the most accurate software for all steel structures as it allows collaboration, estimation of cost prehand and timely execution of processes," said Paul Wallett, Regional Director, Trimble Solutions, India & Middle East. "Tekla Structures' unique capabilities and error free delivery of projects is what makes it the most efficient and effective solution for pre-engineered buildings"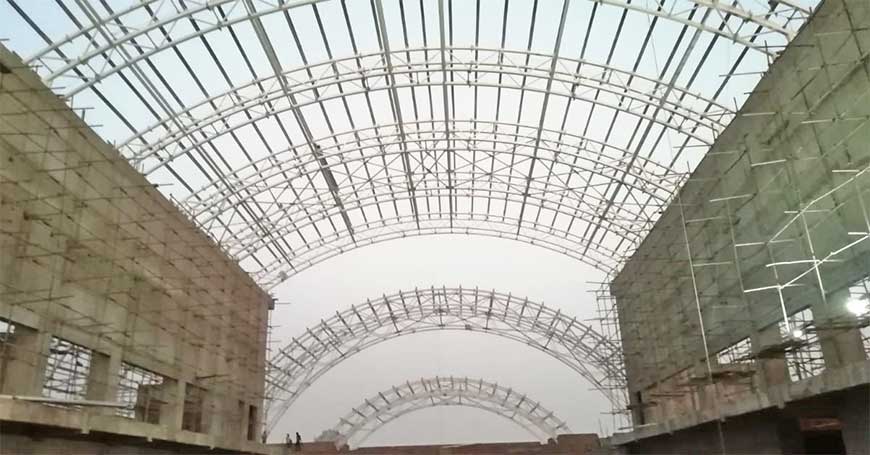 The most important element in the stadium's construction was to design a steady structure with optimum steel consumption. The estimation of raw materials made at the beginning of the project helped the production team to arrange the material "just on time" when the job was released for fabrication. Also, keeping in mind the challenges that were expected during the erection process, the design team had to carefully choose the most appropriate connection system.
"We execute most of our projects on Tekla as it extensively supports jobs with revisions. Further, 2D drawings and 3D models created in Tekla are accurate and meet our clients' needs perfectly, allowing us to build the most complex structures with relative ease, as we have seen with the IET Lucknow Indoor Stadium," said Mr. Vasudev Rao, Director-Engineering, Zamil Steel India. "Efficient designs and constructibility are easily achievable with Tekla, which helps us meet our clients' high expectations, ultimately increasing our productivity and profitability," he added.
A truss system was used to provide framing action for this structure where each truss was designed as a combination of several segments. Transportation of this truss in curved segments was in itself a big challenge. Each segment length was decided in such a way that maximum number of segments could be accommodated on each trailer.
"Considering the shape of the structure, executing it in 2D AutoCAD was very challenging. Tekla Structures allowed us to do error free detailing of the unique curved structure with absolute ease," added Mr. Rao of Zamil Steel India. "Besides, NC files generated in Tekla facilitated the project executing team to fabricate the curve members accurately, saving man hours on-site and during fabrication. Tekla also greatly enhanced the overall construction quality via tools such as 3D views and live schedules," he added, recalling the project experience.
About Trimble Buildings
Trimble Buildings, a part of Trimble's Engineering and Construction segment, is focused on solutions that optimize the complete Design-Build-Operate (DBO) lifecycle of buildings. Trimble is dedicated to transforming the industry—increasing productivity, reducing waste and optimizing schedules, budgets and real estate portfolios—with powerful solutions that streamline communication and collaboration. These targeted solutions enable architects, engineers, contractors, owners, and occupiers to realize greater agility, efficiency and insight. Used in over 150 countries around the world, Trimble Buildings' solutions are transforming the way the world designs, builds and operates infrastructure and buildings. For more information about Trimble (NASDAQ: TRMB), visit: www.trimble.com
About Zamil Steel
Zamil Steel specializes in the fabrication and installation of pre-engineered and structural steelwork for various industrial and commercial applications. The company has over 44 years of core experience in this segment. Having supplied over 100,000 steel structures across 90 countries, Zamil Steel is one of the largest global steel structural and pre-engineered steel building suppliers. Our extensive global network of engineering, manufacturing, sales, and distribution allows us to sell and deliver projects to any global destination.