In the construction business, equipment is improving. Many manufacturers are working to make their machines smarter by implementing proprietary technological solutions that improve efficiency. While there are many new machine developments in the construction business today, technology is at the forefront, and the integration of numerous new technologies in construction equipment is driving jobsite productivity and uptime.
This industry is through a period of tremendous change. Construction equipment manufacturers are beginning to resemble Silicon Valley tech companies in many respects, including advances in telematics, autonomous machinery, and electromobility, to mention a few. Strategic partnerships between equipment manufacturers and users are driving this transition now more than ever.
This is excellent news for a sector that has previously lagged behind transportation, agriculture, and other sectors. Manufacturers are enhancing products and services to ensure improved machine uptime, higher machine lifecycle values, and unique customer solutions when new, creative technologies are introduced.
The most important developments in construction equipment technology are in the following fields.
Telematics:
Telematics is one of the fundamental technologies that is transforming the construction industry. Machine diagnostics signals from a telematics system can assist prevent downtime, theft, and misuse.
Many manufacturers are embracing telematics, which allows the machine to convey crucial information to fleet managers and equipment owners.
In addition, telematics offers a number of advantages to the construction sector, including higher productivity, efficiency, and operational security.
Telematics technology allows data like location, fuel usage, and machine operation to be tracked and reported remotely. For example, John Deere has JDLink, which keeps track of information on equipment. However, one of the most beneficial characteristics of JDLink, according to Kahler, is the product's availability.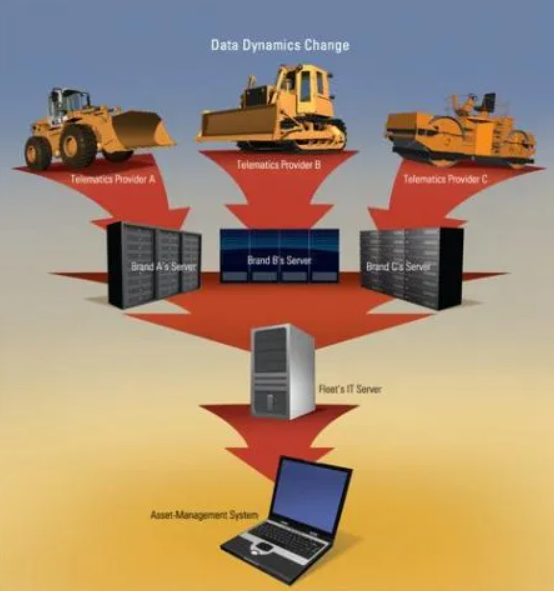 Uptime will see the most significant adjustments. Connected equipment sends massive amounts of data that can be used to make actionable predictions. Knowing when a machine may break down, for example, allows employers to take it down for maintenance before a Jobsite comes to a standstill. The significant difference is that some OEMs are receiving all of this information and filtering it for dealers and customers, only providing them actionable signals. Advanced reporting, prepared by a team of experts, is also sent along by manufacturers. Find out more about our ActiveCare Direct program. Off-highway applications are increasingly utilizing telematics solutions such as asset tracking, diagnostics, fleet safety, and fleet performance reporting. The construction industry accounts for the biggest percentage of all NRMM studies. Telematics for construction equipment allows companies to track the position and performance of their equipment. It allows them to keep track of construction equipment usage and guarantee that assets are being utilized effectively. If equipment is underutilized, it might be moved to another location where it will be needed. This is how telematics for construction equipment improves overall efficiency. By streamlining the maintenance process, construction telematics enhances reliability and decreases the risk of unscheduled equipment downtime.
Integrated grade control system
Grade control systems are the second major technology affecting construction equipment today. Manufacturers and technology providers frequently collaborate to give advanced 3D grade control without the use of external masts or wires. This can save money and lessen the danger of equipment theft or damage.
Integrated grade control systems are the construction industry's present and future. Profit is synonymous with precision and speed.John Deere and Topcon Positioning Systems have formed a strategic agreement to co-develop the SmartGrade system and provide integrated grade control to the construction industry.
A number of other equipment makers have formed similar industrial collaborations. Case Construction Equipment and Leica Geosystems, which is now part of Hexagon AB, for example, have a precision construction tool relationship that was launched in 2014 and has grown since then.
The advantage is that CASE dealers can provide more off-machine precision building tools. Pipe lasers, spinning lasers, subterranean utility locators, and automatic and electronic levels are all examples of this.
Payload Weighing
Payload weighing, which allows construction businesses to track material movement on a jobsite, is another way that construction equipment is improving. According to Kahler, John Deere offers both an advanced and an embedded payload scale with limited detail functionality. Total bucket loads, trucks loaded, cycle times, and more are all measured by the payload weighing system. Caterpillar, for example, provides onboard weighing devices with real-time input in the cab. Operators may see bucket and truck load weights, as well as track important performance metrics such as daily production tonnage, truck load counts, tons/hours, tons/fuel burnt, and more. In general, technology can assist reduce visits to the scale, boost productivity, and increase operator efficiency, all while lowering costs and making the jobsite safer.
Drones
Construction drones, also known as unmanned aerial vehicles, are an important technology that is making waves in the construction industry today. According to the Teal Group, civil unmanned aerial systems are attracting startup money, and the civil, non-military sector is expected to expand 15.6 percent between 2020 and 2029. It also predicts that by 2024, the commercial drone market would have surpassed the consumer sector, with construction leading the commercial business for the following decade. A number of technology businesses are developing sophisticated systems to help the construction industry transform its jobsite operations. Drones, which were originally regarded as largely recreational, have now taken on the role of industrial work. In the instance of John Deere, we developed a strategic collaboration with Kespry to provide clients with a groundbreaking new system that captures survey-grade topography in minutes.
Autonomous vehicles
Self-driving machines are a reality. Autonomous vehicles will be successful in construction long before they take over commuter roads. They'll be used on closed sites, with limited circulation of pedestrians and other machines, before coming to the city. On-site deployment of autonomous construction equipment is already underway. Construction sites, unlike a parking lot or a bustling roadway, are highly controlled and fixed geographic regions with clearly defined borders. Within these confines, skilled personnel conduct themselves in an orderly and safe manner. This opens up the possibility of autonomous cars with varied degrees of autonomy being deployed. 1 Partially autonomous vehicles and equipment can be deployed on well-structured and well-ordered construction sites to increase efficiency and safety. Autonomous construction equipment has been developed by start-ups like Built Robotics and SafeAI, as well as established industry heavyweights like Caterpillar and Komatsu. The COVID-19 epidemic, as well as the resulting social distancing mandates, has hastened the development of autonomous equipment.
Figure 5: Autonomous vehicle in construction Industry
For a Prius, it's simple, but not for massive machinery that must lift and transport tonnes of goods. Around the world, hybrid and novel battery technologies are being tested. They are quieter, more efficient, and more environmentally friendly. Garbage trucks that transition to electric, for example, can function at night because there is no noise. Cost, range, and power availability are all major concerns with electrification. Electric vehicle prices will be equivalent to their internal combustion engine (ICE) counterparts in the light-duty market as early as 2025, thanks to advances in both manufacturing and battery manufacture. Since the first electric vehicles reached the streets, battery capacity has improved, allowing vehicles to drive further on a single charge. Despite this, range anxiety remains a major worry, with battery deterioration playing a role. Newer electric vehicle batteries, on the other hand, include a failsafe to account for the degradation that occurs over the course of complete charge cycles. Furthermore, electrified assets are expected to match or exceed ICE output while also offering instant torque.